Our Services
Part Exchange Facility
We will always consider part exchanges against our stock RVs, whether it is another RV, a European Motorhome, a Caravan, a Car, a 4x4, a motorbike, a boat, or something else interesting that you may own but don't use any more, we will endeavour to obtain the best possible price for your item in a part exchange deal.
Please contact our Sales Team with details of your item.
Service and Repairs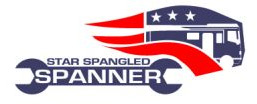 We are indebted to the services of local RV service specialist, Duncan McKenzie at Star Spangled Spanner.
Duncan has over 20 years experience of servicing and repairing American RVs, and comes highly recommended to all our customers.
We work closely with Duncan to ensure all our vehicles are offered for sale in the best possible mechanical condition.